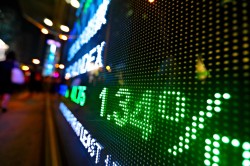 Bravatek Solutions Inc (OTCMKTS:BVTK)'s stock price was down 6.7% on Thursday . The stock traded as low as $0.27 and last traded at $0.29, approximately 25,386 shares were traded during trading. An increase of 146% from the average daily volume of 10,325 shares. The stock had previously closed at $0.31.
The company has a fifty day moving average price of $0.37 and a two-hundred day moving average price of $0.49.
Bravatek Solutions Company Profile (OTCMKTS:BVTK)
Bravatek Solutions, Inc provides security, defense, and information security solutions in the United States and internationally. Its security solutions assist corporate entities, governments, and individuals in protecting their organizations and/or critical infrastructures against error, and physical and cyber-attacks.
See Also: What is a CD ladder?
Receive News & Ratings for Bravatek Solutions Daily - Enter your email address below to receive a concise daily summary of the latest news and analysts' ratings for Bravatek Solutions and related companies with MarketBeat.com's FREE daily email newsletter.