Huntington Bancshares Incorporated (NASDAQ:HBAN) declared a quarterly dividend on Friday, July 19th, RTT News reports. Shareholders of record on Tuesday, September 17th will be paid a dividend of 0.15 per share by the bank on Tuesday, October 1st. This represents a $0.60 dividend on an annualized basis and a dividend yield of 4.07%. The ex-dividend date of this dividend is Monday, September 16th. This is a positive change from Huntington Bancshares's previous quarterly dividend of $0.14.
Huntington Bancshares has raised its dividend by an average of 25.1% per year over the last three years and has increased its dividend annually for the last 6 consecutive years. Huntington Bancshares has a dividend payout ratio of 48.4% indicating that its dividend is sufficiently covered by earnings. Research analysts expect Huntington Bancshares to earn $1.34 per share next year, which means the company should continue to be able to cover its $0.60 annual dividend with an expected future payout ratio of 44.8%.
Shares of NASDAQ HBAN opened at $14.75 on Friday. The stock has a market cap of $15.20 billion, a PE ratio of 12.29, a PEG ratio of 1.60 and a beta of 1.44. The business has a fifty day moving average of $13.34 and a two-hundred day moving average of $13.47. Huntington Bancshares has a 52-week low of $11.12 and a 52-week high of $16.06. The company has a debt-to-equity ratio of 0.86, a quick ratio of 0.90 and a current ratio of 0.90.
Huntington Bancshares (NASDAQ:HBAN) last issued its quarterly earnings data on Thursday, July 25th. The bank reported $0.33 earnings per share (EPS) for the quarter, beating the Zacks' consensus estimate of $0.32 by $0.01. The company had revenue of $1.19 billion during the quarter, compared to analysts' expectations of $1.18 billion. Huntington Bancshares had a return on equity of 14.23% and a net margin of 25.77%. The business's revenue was up 5.9% on a year-over-year basis. During the same period last year, the business earned $0.30 earnings per share. Analysts predict that Huntington Bancshares will post 1.3 earnings per share for the current year.
In related news, EVP Nancy E. Maloney sold 2,604 shares of Huntington Bancshares stock in a transaction dated Monday, July 29th. The stock was sold at an average price of $14.57, for a total value of $37,940.28. Following the completion of the transaction, the executive vice president now directly owns 80,103 shares of the company's stock, valued at $1,167,100.71. The transaction was disclosed in a document filed with the Securities & Exchange Commission, which is accessible through this link. Insiders own 1.22% of the company's stock.
A number of research analysts have issued reports on the company. Raymond James set a $14.00 price objective on Huntington Bancshares and gave the company a "buy" rating in a report on Thursday, August 29th. Zacks Investment Research raised Huntington Bancshares from a "sell" rating to a "hold" rating in a report on Tuesday, May 21st. BidaskClub raised Huntington Bancshares from a "sell" rating to a "hold" rating in a report on Monday, September 2nd. Argus started coverage on Huntington Bancshares in a report on Friday, May 31st. They issued a "hold" rating for the company. Finally, ValuEngine cut Huntington Bancshares from a "hold" rating to a "sell" rating in a report on Tuesday, July 2nd. Three investment analysts have rated the stock with a sell rating, nine have assigned a hold rating and two have given a buy rating to the company's stock. The company presently has an average rating of "Hold" and an average price target of $15.48.
About Huntington Bancshares
Huntington Bancshares Incorporated operates as a holding company for The Huntington National Bank that provides commercial, small business, consumer, and mortgage banking services. The company operates through four business segments: Consumer and Business Banking, Commercial Banking, Vehicle Finance, and Regional Banking and The Huntington Private Client Group (RBHPCG).
Further Reading: What can cause a stock to outperform?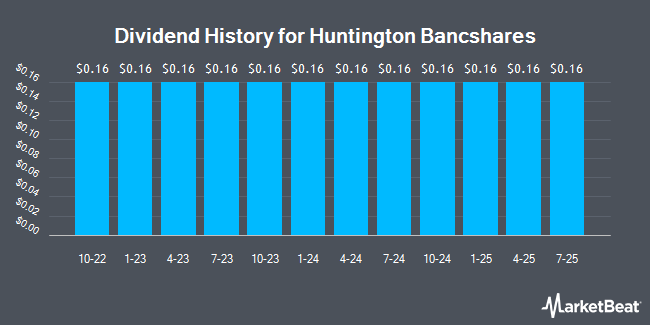 Receive News & Ratings for Huntington Bancshares Daily - Enter your email address below to receive a concise daily summary of the latest news and analysts' ratings for Huntington Bancshares and related companies with MarketBeat.com's FREE daily email newsletter.