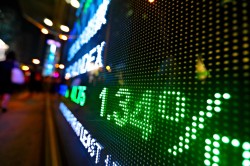 Compass Point assumed coverage on shares of Silvergate Capital (NYSE:SI) in a report issued on Monday morning, Briefing.com Automated Import reports. The firm issued a buy rating and a $17.50 price target on the stock.
Shares of SI stock opened at $16.43 on Monday. Silvergate Capital has a 12 month low of $12.25 and a 12 month high of $16.90.
In other news, Director Thomas C. Dircks bought 20,530 shares of the business's stock in a transaction that occurred on Tuesday, November 12th. The stock was acquired at an average cost of $15.10 per share, for a total transaction of $310,003.00. Also, Director Dennis S. Frank sold 78,561 shares of the company's stock in a transaction on Friday, November 15th. The shares were sold at an average price of $16.28, for a total value of $1,278,973.08. Over the last quarter, insiders have bought 48,525 shares of company stock valued at $732,728.
About Silvergate Capital
Silvergate Capital Corporation operates as a bank holding company for Silvergate Bank that provides banking products and services to business and individual clients in the United States and internationally. It offers deposit products, including interest and noninterest bearing demand accounts, money market and savings accounts, and certificates of deposit accounts.
Featured Article: How much money do you need to begin day trading?

Receive News & Ratings for Silvergate Capital Daily - Enter your email address below to receive a concise daily summary of the latest news and analysts' ratings for Silvergate Capital and related companies with MarketBeat.com's FREE daily email newsletter.