Dana (NYSE:DAN) updated its FY 2019
Pre-Market earnings guidance on Wednesday. The company provided EPS guidance of 2.85-3.25 for the period, compared to the Thomson Reuters consensus EPS estimate of $3.04. The company issued revenue guidance of $8.55-8.85 billion, compared to the consensus revenue estimate of $8.7 billion.Dana also updated its FY19 guidance to $2.85-3.25 EPS.
Shares of Dana stock traded up $0.32 during trading on Wednesday, reaching $16.98. 175,094 shares of the company traded hands, compared to its average volume of 981,348. The firm has a market capitalization of $2.44 billion, a PE ratio of 5.72, a P/E/G ratio of 1.27 and a beta of 2.23. Dana has a 1-year low of $11.57 and a 1-year high of $20.96. The company has a 50 day moving average price of $16.69 and a 200-day moving average price of $15.95. The company has a debt-to-equity ratio of 1.32, a current ratio of 1.64 and a quick ratio of 1.03.
Dana (NYSE:DAN) last posted its quarterly earnings results on Wednesday, October 30th. The auto parts company reported $0.74 EPS for the quarter, topping analysts' consensus estimates of $0.73 by $0.01. Dana had a net margin of 2.80% and a return on equity of 26.97%. The business had revenue of $2.16 billion during the quarter, compared to analysts' expectations of $2.16 billion. During the same period last year, the company posted $0.77 earnings per share. The business's quarterly revenue was up 9.4% on a year-over-year basis. Equities research analysts expect that Dana will post 3.06 earnings per share for the current year.
The business also recently disclosed a quarterly dividend, which was paid on Friday, November 29th. Stockholders of record on Friday, November 8th were given a dividend of $0.10 per share. The ex-dividend date was Thursday, November 7th. This represents a $0.40 dividend on an annualized basis and a dividend yield of 2.36%. Dana's dividend payout ratio (DPR) is presently 13.47%.
A number of analysts recently commented on DAN shares. ValuEngine lowered Dana from a sell rating to a strong sell rating in a research report on Saturday, October 19th. TheStreet upgraded Dana from a c rating to a b- rating in a report on Thursday, November 7th. KeyCorp reduced their price objective on Dana from $22.00 to $20.00 and set an overweight rating for the company in a research note on Thursday, September 12th. Barclays decreased their price objective on Dana from $24.00 to $22.00 and set an overweight rating for the company in a report on Thursday, September 12th. Finally, UBS Group began coverage on Dana in a research report on Tuesday, November 19th. They set an outperform rating and a $20.00 target price on the stock. Two investment analysts have rated the stock with a sell rating, two have assigned a hold rating and eight have assigned a buy rating to the stock. The company presently has an average rating of Buy and a consensus target price of $20.56.
In other Dana news, EVP Mark E. Wallace sold 44,570 shares of Dana stock in a transaction dated Thursday, September 5th. The stock was sold at an average price of $13.41, for a total transaction of $597,683.70. Following the completion of the transaction, the executive vice president now owns 145,431 shares in the company, valued at approximately $1,950,229.71. The transaction was disclosed in a document filed with the Securities & Exchange Commission, which is available through the SEC website. Also, CFO Jonathan Mark Collins sold 10,000 shares of the business's stock in a transaction that occurred on Thursday, November 7th. The stock was sold at an average price of $17.62, for a total value of $176,200.00. Following the sale, the chief financial officer now directly owns 7,015 shares of the company's stock, valued at $123,604.30. The disclosure for this sale can be found here. Over the last three months, insiders have sold 122,421 shares of company stock valued at $1,965,648. 0.75% of the stock is currently owned by insiders.
Dana Company Profile
Dana Incorporated provides drive and motion products, sealing solutions, thermal-management technologies, and fluid-power products to vehicle and engine manufacturer in North America, Europe, South America, and the Asia Pacific. The company operates in four segments: Light Vehicle Driveline Technologies, Commercial Vehicle Driveline Technologies, Off-Highway Drive and Motion Technologies, and Power Technologies.
Recommended Story: Intrinsic Value and Stock Selection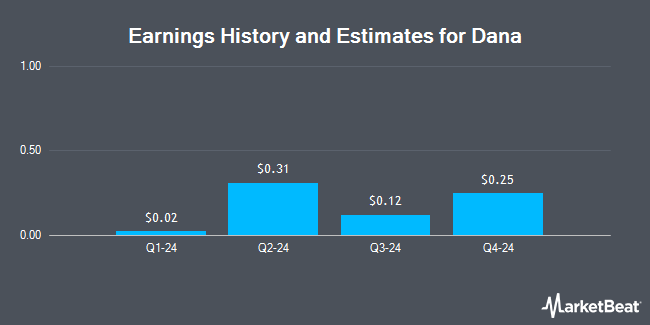 Receive News & Ratings for Dana Daily - Enter your email address below to receive a concise daily summary of the latest news and analysts' ratings for Dana and related companies with MarketBeat.com's FREE daily email newsletter.