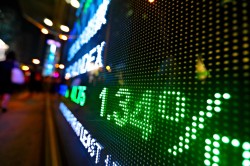 Qutoutiao (NASDAQ:QTT) posted its quarterly earnings data on Tuesday. The company reported ($3.32) earnings per share (EPS) for the quarter, missing analysts' consensus estimates of ($0.35) by ($2.97), Briefing.com reports. Qutoutiao had a negative return on equity of 225.76% and a negative net margin of 55.72%. The business had revenue of $1.41 billion during the quarter, compared to analysts' expectations of $1.40 billion. During the same period in the previous year, the business posted ($2.72) EPS. The business's quarterly revenue was up 44.0% compared to the same quarter last year. Qutoutiao updated its Q4 2019
Pre-Market guidance to EPS.
QTT stock opened at $2.79 on Wednesday. The company has a debt-to-equity ratio of 2.47, a quick ratio of 2.20 and a current ratio of 2.20. The company's fifty day moving average price is $3.43 and its 200-day moving average price is $4.06. Qutoutiao has a one year low of $2.72 and a one year high of $18.00. The company has a market capitalization of $830.01 million, a PE ratio of -1.33 and a beta of 0.68.
Separately, Zacks Investment Research raised Qutoutiao from a "sell" rating to a "hold" rating in a research note on Wednesday, October 23rd.
About Qutoutiao
Qutoutiao Inc operates mobile platforms for the distribution, consumption, and sharing of light entertainment content in the People's Republic of China. The company operates Qutoutiao, a mobile application that aggregates articles and short videos from professional media and freelancers and presents customized feeds to users; and Quduopai, a mobile application that allows users to create, upload, and view videos.
Further Reading: Stock Ratings and Recommendations: Understanding Analyst Upgrades and Downgrades
Receive News & Ratings for Qutoutiao Daily - Enter your email address below to receive a concise daily summary of the latest news and analysts' ratings for Qutoutiao and related companies with MarketBeat.com's FREE daily email newsletter.