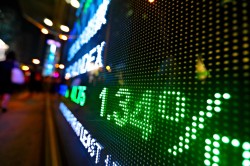 ValuEngine lowered shares of Pioneer Power Solutions (NASDAQ:PPSI) from a hold rating to a sell rating in a research note released on Thursday, ValuEngine reports.
NASDAQ PPSI traded down $0.13 during trading on Thursday, hitting $1.05. 23,800 shares of the stock traded hands, compared to its average volume of 5,760. The company has a market capitalization of $10.30 million, a P/E ratio of 2.14 and a beta of 1.05. The firm has a 50-day simple moving average of $1.82 and a 200-day simple moving average of $2.78. Pioneer Power Solutions has a 12-month low of $1.00 and a 12-month high of $6.76.
A hedge fund recently bought a new stake in Pioneer Power Solutions stock. PEAK6 Investments LLC purchased a new stake in shares of Pioneer Power Solutions, Inc. (NASDAQ:PPSI) in the 4th quarter, according to the company in its most recent 13F filing with the SEC. The firm purchased 14,800 shares of the company's stock, valued at approximately $34,000. PEAK6 Investments LLC owned approximately 0.17% of Pioneer Power Solutions at the end of the most recent reporting period. 18.49% of the stock is owned by hedge funds and other institutional investors.
About Pioneer Power Solutions
Pioneer Power Solutions, Inc, together with its subsidiaries, manufactures, sells, and services specialty electrical transmission, distribution, and on-site power generation equipment in the United States, Canada, and internationally. The company operates in two segments, Transmission & Distribution Solutions and Critical Power Solutions.
Recommended Story: What are CEFs?

To view ValuEngine's full report, visit ValuEngine's official website.
Receive News & Ratings for Pioneer Power Solutions Daily - Enter your email address below to receive a concise daily summary of the latest news and analysts' ratings for Pioneer Power Solutions and related companies with MarketBeat.com's FREE daily email newsletter.