Analysts at Credit Suisse Group initiated coverage on shares of Sartorius Aktiengesellschaft (OTCMKTS:SARTF – Get Rating) in a research report issued on Monday, The Fly reports. The brokerage set a "neutral" rating on the stock.
Separately, Deutsche Bank Aktiengesellschaft increased their target price on shares of Sartorius Aktiengesellschaft from €531.00 ($577.17) to €540.00 ($586.96) and gave the company a "buy" rating in a research report on Monday, October 24th. Two equities research analysts have rated the stock with a hold rating and four have assigned a buy rating to the company. Based on data from MarketBeat.com, Sartorius Aktiengesellschaft currently has an average rating of "Moderate Buy" and a consensus target price of $540.00.
Sartorius Aktiengesellschaft Stock Performance
OTCMKTS:SARTF opened at $364.50 on Monday. The company has a market capitalization of $12.48 billion, a PE ratio of 42.29 and a beta of 0.74. The company has a 50 day simple moving average of $308.57 and a two-hundred day simple moving average of $329.94. The company has a debt-to-equity ratio of 0.67, a quick ratio of 0.43 and a current ratio of 0.96. Sartorius Aktiengesellschaft has a fifty-two week low of $267.00 and a fifty-two week high of $501.80.
About Sartorius Aktiengesellschaft
(
Get Rating
)
Sartorius AG engages in the provision of solutions for biopharmaceutical research. It operates through following divisions: Bioprocess Solutions (BPS), and Lab Products and Service (LPS). The Bioprocess Solutions division focuses on single-use solutions, helps customers manufacture biotech medications and vaccines safely and efficiently.
Featured Stories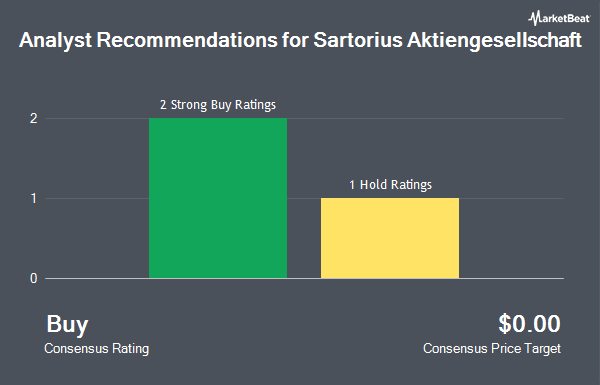 Receive News & Ratings for Sartorius Aktiengesellschaft Daily - Enter your email address below to receive a concise daily summary of the latest news and analysts' ratings for Sartorius Aktiengesellschaft and related companies with MarketBeat.com's FREE daily email newsletter.